paris on plants
all you need to know about eating vegan in paris - with listings by arrondissement!
first of all, forget what you've heard about being vegan in paris. it's super simple & super sympa. you may not be able to plop yourself down in a brasserie on the champs elysee & expect a menu full of vegan options - but why would you when there's a cornucopia of dining adventure awaiting you in the city of light?
i don't have photos to accompany every place i've mentioned. i like to eat food, not frame it. having said that, there are snaps a-plenty. look! i even put one at the top there for you.
as of today (25.02.2018), there are 46 entirely vegan restos/cafes in paris, not including the four (soon to be five) fully vegan shops. my flabber remains well-and-truly gasted. i mean...i'll give you an example: my last visit to paris was in february. since then, at least three new vegan places have opened. one major caveat: opening hours should be scrutinised. lots of places are shut on mondays & for a few hours during the afternoon. loads are open on sundays, however, so...swings & roundabouts.
club sarnie at (former) brasserie lola
NB: brasserie lola has changed hands & is no longer vegan, so head over to art. the proprietors of lola have some new magic (as yet unveiled) up their...collective sleeve.
really worth a visit no matter how far away you're staying are the vegan brasseries, art & lola. lola - the first to debut - is at 99 rue du theatre. metro emile zola on line 8 is nearby, but it's easy to get to on foot if you're in the vicinity of the tour eiffel...providing the perfect excuse to walk down the champ de mars & watch the dogs (erm) frolic. art is at 49 rue montmartre, 75002. nearest metro is etienne marcel. the brasseries are exceptional because they serve 'typical' french brasserie, but with a vegan twist. the people who work there are patient & the menu is phenomenal. there's an english version, too, so don't fret if you'd rather not risk just pointing at an item & hoping for the best.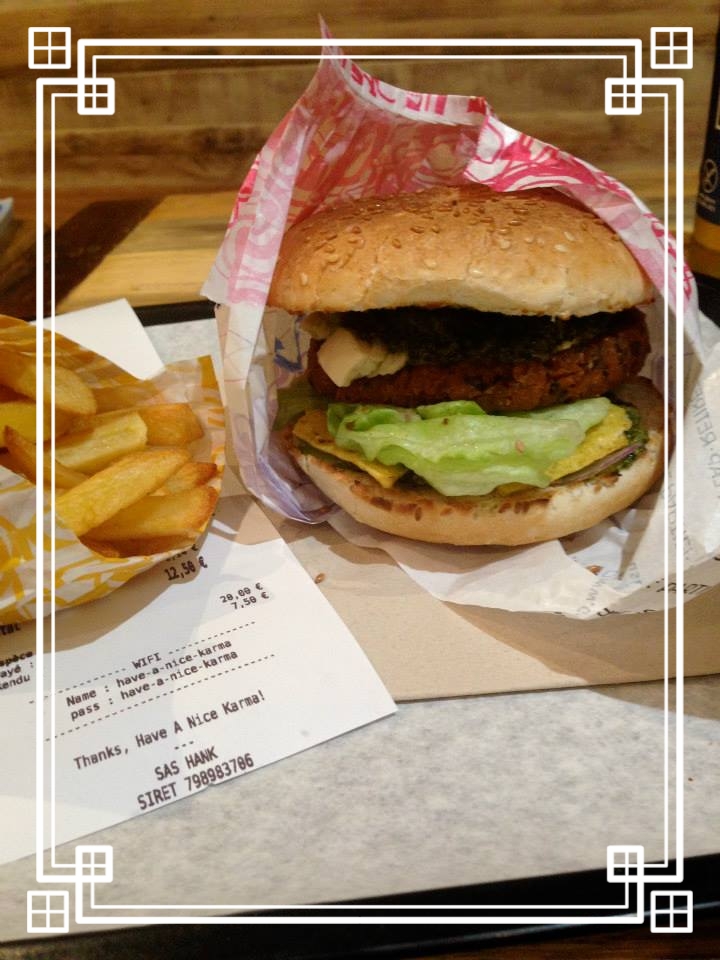 hankering for a hank burger?
55 rue des archives, 75003
hank burger at 55 rue des archives is dangerously near to un monde vegan & centre pompidou, both of which i would recommend you visit at least once in your life. i've never been able to resist either, but take a few tote bags with you. you'll be buying all of the things. it's okay. vegan food & art are always justifiable.
18 rue des gravilliers, 75003
so long as you're in the neighbourhood, may as well visit hank pizza (18 rue des gravilliers). it's not a traditional pie. round they are not, these rebellious darlings.. they're square. & squares rule. the fromage fait maison is delectable, the toppings inventive - plus, at €12 for a formule (meal deal), you'll be stuffed without getting stuffed. both hanks are quite lovely if you're after a bit of junk food with a determined devotion to organic. you'll appreciate the friendly, relaxing ambience...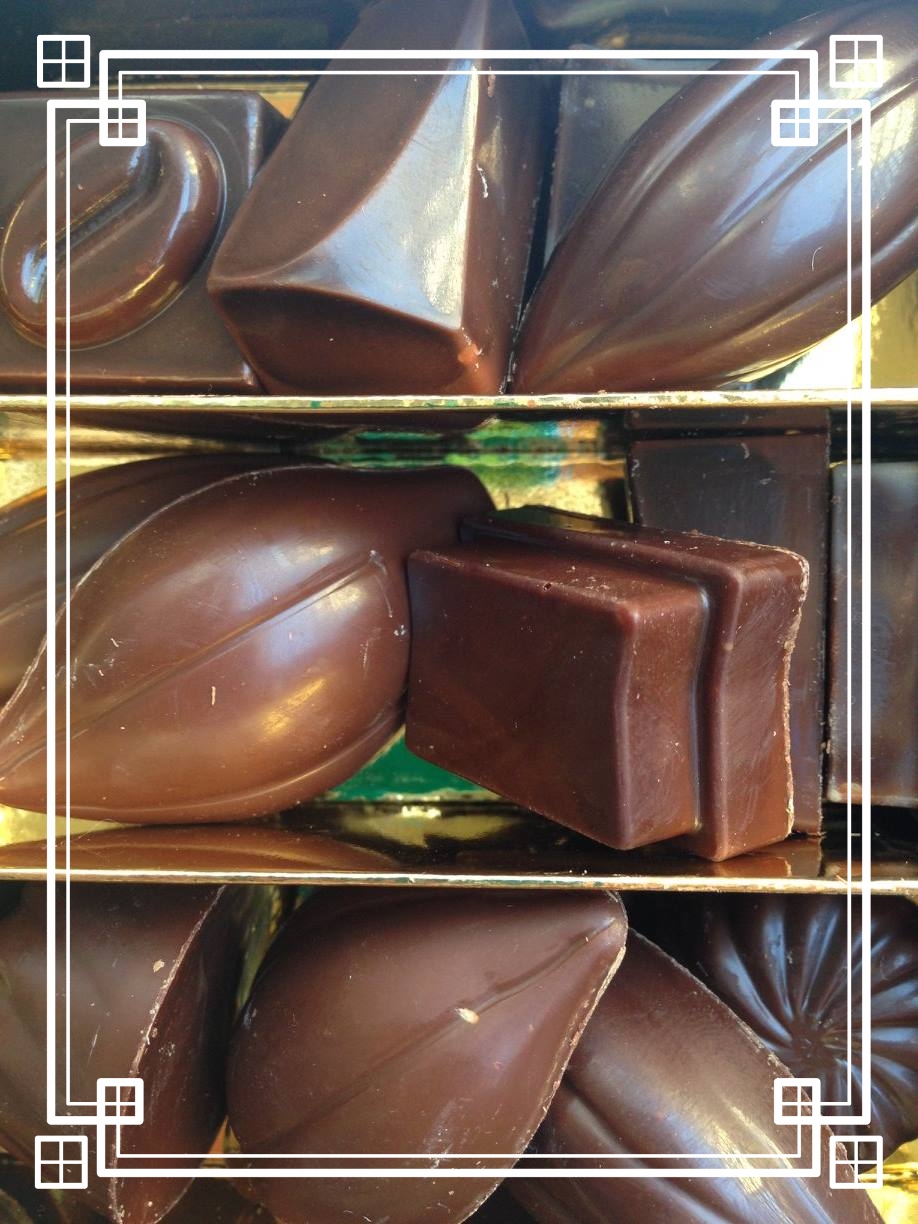 the chocolat cheries of ara
54 rue d dunkerquee, 75010
ara chocolat at 54 rue de dunkerque should be your first stop if you're lucky enough to land at gare du nord. trust me: you won't mind dragging your cases for 10 minutes once you feast your eyes on the lusciousness in store. they're open every day apart from tuesdays & sundays. the owners take great pride in their craft. they're happy to show you the process & tell you about the equitably sourced ingredients that they transform into fucking (sorry, but i'm passionate!) deliciously inventive truffles & bars.
(i want to ride) le tricycle
how do i even begin to tell you about le tricycle? how will i describe it in such a way that will do it justice? this started off as a vegetarian food cart, but enjoyed such overwhelming popularity for its creative hot dog menu that it soon opened a proper (light & airy) restaurant in veggietown (as the 9th & 10th arrondissements have affectionately been dubbed). don't be fooled into assuming that this is junky fast food. as the photos above quite clearly illustrate, plenty of vegetables are on the menu. they're combined with grains & seeds, sure...but not in a soixante-huitard kind of way. the salads are hearty & satisfying. they'll make you feel as vibrant as they look. although i've never had the pleasure of enjoying their celebrated sunday brunch, i hear brilliant things about it. for €20, you'll get more food than you can handle.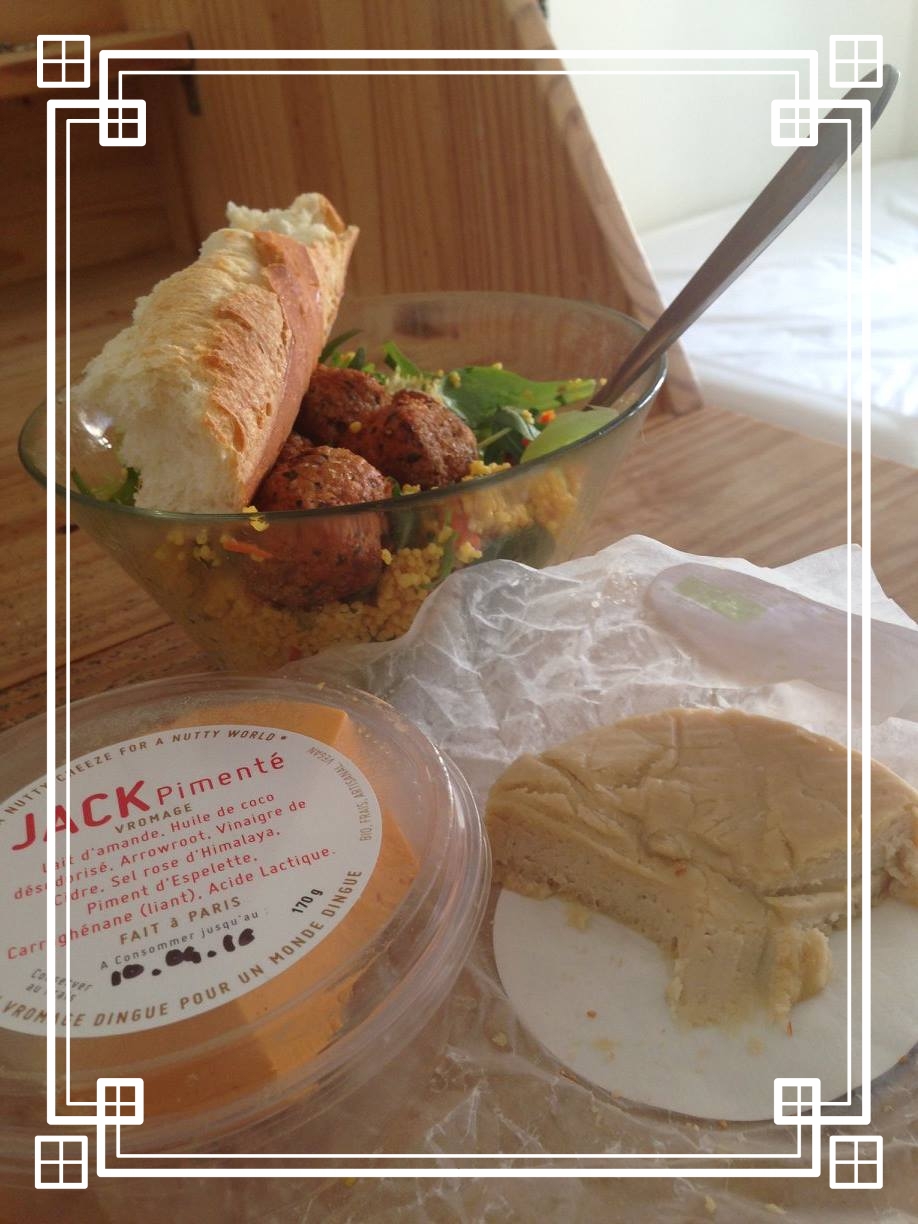 sold at shops throughout paris
some stereotypes prove true. the one about how the french love cheese is one of them. they've elevated it to a form of transcendental meditation. happily, this cheesy canonisation extends to the plant-based varieties, too. just look at the specimens above. there's none of that funky aftertaste or cling-to-the-roof-of-the-mouth plasticky bullshit here. jay & joy make an astounding variety using a base of cashews for one range & almonds for the other. they do cheesecake, too. try the camembert from 42 degres (109 rue du faubourg poissonniere) if you're up for a blowout splurge on a raw menu! it took herculean will for me not to shove the entire round down my gob in one go.
you're in france. so what? that won't stop you sampling some traditional italian couture & cuisine. scoot yourself over to carmen ragosta at 8 rue de la grange aux belles, 75010. carmen cooks simple meals full of flavour. when you've wiped the final crumbs from the corners of your mouth, indulge your other senses. carmen designs & produces her own (vegan) clothing line. a visit is more than a meal. it's an experience.
gentle gourmet, in my opinion, claims the crown for changing french perceptions of vegan cuisine. it's the mother of all plant-based restaurants in that respect. for indulgence - if you're celebrating a milestone, for instance - it's the place to go. they've an ever-evolving, extensive menu that will, at some point, have included anything you've ever dreamt of trying a la vegan. you'd better save some room for the macarons, though. it's at 24 boulevard de la bastille, 75012 & bastille is the nearest metro. there's some fun architecture in the neighbourhood, too, if that's the way you choose to live your life.
for an authentic french menu (vegan style), visit either le potager du marais (24 rue rambuteau) or le potager de charlotte (12 rue de la tour d'auvergne). booking is recommended if you're after an extravagant evening meal. sample dishes include onion soup (something that actually exists in france - unlike french toast or fries), mushroom crepes with leek fondue, seitan bourguignon, tarte tatin & creme brulee. i don't know about you, but my mouth's going full pavlov just reading about it.
my kitch'n is in the 17th (82 rue lemercier - nearest metro is brochant. it's easy to get to on foot if you're exploring montmartre for the day) &, unassuming though the quartier may appear, it's worth a venture. who wants to play it safe? you're on holiday. get into the nooks & crannies. give the batignolles some love. jennifer, the proprietor & founder of my kitch'n, is warm & funny. she makes inventive, healthy (a lot of the menu is raw) & filling food. starring roles go to the sushi burrito & the red velvet milkshake.
if you've not been to un monde vegan (the vegan shop at 64 rue notre dame de nazareth, 75003), don't wait. get over there & stock up on stuff you won't see elsewhere. wanna' take the metro? get the line 4 to reaumur sebastopol. you can always walk to or from hank burger & take in some art at one of the countless independent galleries in the 3rd arrondissement.
talking of art...why would you spend any time in paris without looking at some? in fact, you can't. it's everywhere & it's not all behind closed doors. no one is immune, so don't save yourself! the mayor of the 13th has made a mission of giving everyone access to it. go there & have a street art day. take a break for refreshment at the mouthwatering season square (3 rue louise weiss). the food is vibrant, fresh & fast. afterwards, walk up rue tolbiac to street art mecca, le lavo/matik (20 boulevard du general d'armee jean simon 75013). carry on to the cobbled streets & old walls in the secret enclave of butte-aux-cailles, where you'll thrill to the colours of urban art veterans such as miss.tic. once you've climbed to the top of the hill, quench your thirst with one of the many belgian beers at sputnik. you'll nurture a pleasant buzz whilst you wait for your go on the babyfoot table.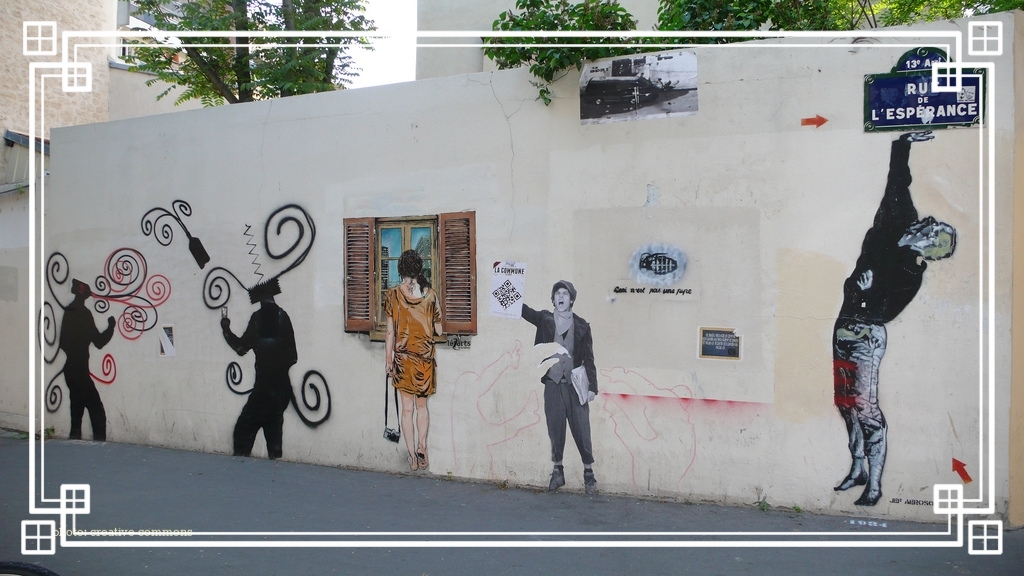 eastside burgers has earned its title as the punk rock of paris veggie burgers. they are the pioneers on which all others (& there's been a proliferation in paris) were modelled. hop on line 5 & take the train to metro richard lenoir. in 5 minutes, you'll find yourself in burger wonderland: 60 boulevard voltaire. now that VG patisserie is in the same hood, you've no more excuses. everything at eastside is veggie, but it has a really good selection of vegan junk food. the atmosphere is electric (in the best way possible). there's just a mass of good energy here. fill up & fuck off.
oatmeal is simply superb. it's not just about breakfast, either...though, as caffeine fixes go, you'll be hard-pressed to find better in paris. don't trust me to flap on about it. just look at their menu.
did you know that paris is home to a thriving chinatown? vegans don't have to go without a taste of the far east. let me lay it down for you. tien hiang has been about for yonks & schooled everyone else in the way it's done. just have a look at their amazing menu to understand how monumental this place is. extensive & mostly vegan, the menu is clearly marked, too.after you've proved the painful adage that your eyes are bigger than your belly, you can run it off round amelie's stomping ground at the canal saint-martin. when i've been there, the people who run it were rushed off their feet &, thus, not as welcoming as the people over at another fave chinese, vegebowl. having said that, tien hiang offers a bit more variety. the food in both places is equally delectable, though - & it's all authentic.
if i could eat proper vietnamese pho every single goddamned day, i would. i'm not joking. want to pho things up a bit? make tracks to vietnam in paris/saveurs du vietnam (48 rue de clercy 75002). in general, they're only open for lunch - but it's worth any amount of rushing to get there before they shut at 3. the staff is super friendly & accommodating in addition to knowing exactly what they're doing in the kitchen. they cook the most authentic vietnamese food in a way that it always should be: vegan. o, i wish.
what do you mean, you don't need more coffee or art? 1944 is a vegan coffee & snack shop that also sells vintage clothing & displays original art. at 2 rue lesdiguieres in the fourth, bastille is the stop you want. support your (temporary) local artists & enjoy a twin peaks moment with a french twist.
& now, it's time for cakes. the newly opened VG patisserie (123 boulevard voltaire 75011, criminally close to eastside burgers) may be your first introduction to vegetale viennoiseries. did you ever think you'd be eating brioche or mille-feuille again? don't slap yourself. you can now - with handmade chocolates.
cloud cakes (see the photo at the tippy-top of this page for details) at 6 rue mandar (75002) is brilliant for a light lunch (quiche, soup) followed by a croissant & turmeric chai or a slice of triple-layered cake. small & popular, it always seems to be heaving. have patience. you will be rewarded.
here's another parisian pioneer: vegan folies. they, too, inspired a few imitators. that sounds like a pejorative, but it's not at all meant that way. please, paris: more vegan bakeries. hell! all vegan bakeries. located at the top of the legendary rue mouffetard (number 53, near metro place monge on the line 7 & about a 40 minute walk from the place de la republique), you can delude yourself about the negative calorie effect if you stroll (quickly, several times) down charming rue mouffetard. vegan folies sell cheesecake, cupcakes (both savoury & sweet), cakes & even filled baguettes. you could always pop in after a falafel at maoz (rue xavier privas near the metro odeon on line 4). i'm sure you've been to a maoz before, but they're always a winner - tasty & cheap. the neighbourhood round there (st michel) is excellent for a scavenge, too. keep your peepers alert for boulinier & pop in for some used records & books.
that's about it - in only a few billion words. i've got just another tiny tip to impart. if you're out & about on a monday & can't find a restaurant (remember, monday's a day of rest for chefs), look for a monoprix. they do an outstanding smoked tofu & lentil salad. they also sell their own range of meats & cheeses called vegan deli. be on the look out for bjorg brand goodies. they produce everything from pate (mushroom, aubergine, tomato) to soya desserts. check for 100% vegetal on packets. unless they're numpties, that phrase assures you that a product is vegan. naturalia shops are pretty plentiful, too, - & they have now opened three fully vegan shops in paris & the vicinity. bio c'bon shops are also worth a look. essentially, i suggest you grab a baguette, some vegan pate, tabbouleh & mixed salads & an organic hazelnut chocolate bar (from monoprix), then grab a patch of grass in a nearby park (may i suggest montsouris, parc georges brassens, parc des buttes chaumont or jardin du luxembourg?) or a cemetery (montmartre, pere lachaise or montparnasse).
vegan by arrondissement
there's certainly a vegetarian restaurant in every quartier of the city (despite what non-vegetarian journalists might erroneously posit) & the vegans have invaded nearly every neighbourhood apart, thus far, from the 7th, 8th & 16th. if things continue apace, this egregious state of affairs shall soon be rectified. in the 16th, for example, you can already experience a vegan afternoon tea at the shangri-la hotel. i've not been - but my lovely, clever & talented friend, emi (from emi's good eating) has & she assures me that it's heavenly. this photo of emi's is proof enough for me.
la bauhinia at shangri-la hotel, 75016
for now, here's a list of restaurants you'll find in each section of paris's escargot.
1st arrondissement
maisie cafe - 32 rue du mont thabor
2nd arrondissement
cloud cakes - 6 rue mandar
2eme art brasserie - 49 rue montmartre
vietnam in paris - 48 rue de clery
3rd arrondissement
hank pizza - 55 rue des archives
hank burger - 18 rue des gravilliers
hope - 19 rue de picardie
potager du marais - 24 rue rambuteau
riz riz (asian fusion) - 221 rue saint martin
love juice bar - 36 rue chapon
un monde vegan (shop) - 64 rue notre dame de nazareth
veganie (shop) - 96 rue quincampoix
4th arrondissement
cafe ginger - 9 rue jacques coeur
grand appetit - 9 rue de la cerisaie
1944 - 2 rue lesdiguieres
5th arrondissement
green rainbow - 54 boulevard saint marcel
oatmeal - 11 bis rue vauquelin
world food barn - 248 rue saint-jacques
NOT FULLY VEGAN, but vegetarian & worth a visit because...traditional crepes
crepe de la joie - 4 rue du fer a moulin
6th arrondissement
apeti - 72 rue du cherche-midi
hot vog - 10 bis rue vavin
9th arrondissement
fraiche family (salad bar, lunch hours) - 15 rue manuel
vegebowl - 3 rue de la boule rouge
VG - 85 rue la fayette
centre tout naturellement - 83bis rue la fayette
42 degres - 109 rue du faubourg
juicy & tasty - 78 rue lafayette
le potager de charlotte - 12 rue de la tour d'auvergne
la palanche d'aulac - 13 rue rodier
laelo - 63 rue du faubourg poissonniere (they do 100% vegetal ham & cheese croissants, y'all)
ara chocolat (shop) - 54 rue de dunkerque
yem'a (restaurant) - 41 rue godot de mauroy
10th arrondissement
bodhi vegan - 23 avenue claude vellefaux
carmen ragosta - 8 rue de la grange aux belles
le tricycle - 51 rue de paradis
jah jah - 11 rue des petites ecuries (same owners as le tricycle)
sol semilla - 23 rue des vinaigriers
tien hiang - 14 rue bichat
elaichi - 7 rue du faubourg saint-martin
11th arrondissement
aujourd'hui demain (shop & cafe, the vegan 'colette' concept store) - 42 rue chemin vert
detox delight - 106 rue amelot
VG patisserie - 123 boulevard voltaire (get there early if you want a good selection)
naturalia vegan (food shop) - 39 rue merlin
veg'art (late night pizza, open until midnight) - 123 rue oberkampf
le pagalou - 66 avenue philippe-auguste
east side burgers - 60 boulevard voltaire
loving hut - 92 boulevard beaumarchais
12th arrondissement
gentle gourmet - 24 boulevard de la bastille
comptoir veggie - 75 avenue ledru rollin
13th arrondissement
season square - 3 rue louise weiss
14th arrondissement
rawcakes - 83 rue daguerre
15th arrondissement
brasserie lola - 99 rue du theatre
17th arrondissement
my kitch'n - 82 rue lemercier
naturalia vegan (food shop) - 149 rue de rome
jo & nana cakes (clue's in the name) - 6 rue rennequin
18th arrondissement
le vejuice - 1 rue constance
l'abattoir vegetal* - 61 rue ramey (at marcadet)
(*there may be honey in one juice & egg in one recipe, but will be clearly marked.)
19th arrondissement
le faitout - 23 avenue simon bolivar
20th arrondissement
love me cru - 44 rue de tourtille
primeur cantine - 4 rue lemon
if you go to my soulmate city & discover something delightful, i want to hear about that shiz. leave the glorious details here! now, stop reading & go fill your face in paris.